Wandering through Life:
A Hope for Neighbors Christian Gift Book
Study Guide
based on the book by Wendy Nelson and Tamera Striegel


The "Wandering through Life" Study Guide is an 80-page, 6"x9" paperback
Christian study guide filled with motivational points to consider! ISBN 2370000171481

This study guide was created to help people prioritize,
organize and implement Matthew 22:37-39 in real life.
Our Lord did not say these were just good ideas:
He said they were commandments.
That means we don't just think about it: we do it!

Matthew 22:37 Jesus said unto him, Thou shalt love the Lord thy God
with all thy heart, and with all thy soul, and with all thy mind.
Matthew 22:38 This is the first and great commandment.
Matthew 22:39 And the second is like unto it, Thou shalt love thy neighbour as thyself.

Each study guide topic has space for your written notes
regarding considerations, on commitments
you decide to make, opportunities for reflection
and action items you choose to implement!
- - -
Discuss what you can do as a group and decide what you can do as
an individual! Discover your supernatural gifts God gave you!
Do the work God intends for you to be doing!
- - -
We can't change the world, but we can influence our circle
of friends, family, colleagues and neighbors!

Buy both the hardcover book and study guide shown
to the right and save money!

Jesus told us to love ourselves, our God and our neighbors. When we reach out to others, we share hope and encourage each other. Quality images feature beautiful black and white photography. We must consider a new way of living,
using our gifts God gave us and studying God's Word.
This Study Guide is based on a book about hope and how to share it!

Buy this Christian study guide for friends!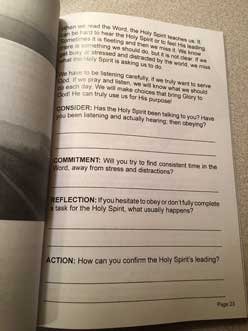 BACK TO HOME PAGE
Wandering through Life
STUDY GUIDE

Order now!
$3.49 each plus handling and shipping
Order any quantity you wish!

International Customers Order Here!
You can use PayPal or these credit cards!