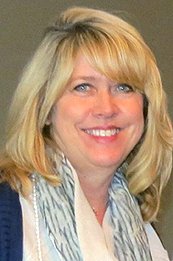 TAMERA STRIEGEL

Tamera Striegel, a North Dakota native, is a writer with a communications background, having worked in radio broadcasting and various print mediums. She worked for five years at K-FYR Broadcasting in Bismarck, writing and producing local, regional and national radio spots for various clients. She also worked as an on-air personality in addition to production assistant responsibilities for the radio station, promoting a wide variety of accounts for television and radio airplay.

Her professional career has also included jobs at KAT Video Productions as a freelance script writer for local and regional accounts, also working at a design studio in marketing and sales. Tamera worked as a managing editor at a local arts publication in Fargo, North Dakota, with a mission to foster and promote the artists and art events within the Fargo/Moorhead community and outlying areas.

Personal endeavors have included being involved with numerous Bible studies, and volunteer involvement in her own church as well as other volunteer opportunities within the community. She also attended five years of BSF (Bible Study Fellowship), which encompasses comprehensive Bible study. Tamera's daily goals involve encouraging others in their personal spiritual lives, as well as growing in her own faith.

Tamera resides in Fargo, North Dakota, with her husband Paul, and two dogs. They have two sons and a daughter.

Email info@hopeforneighbors.com
BACK TO HOME PAGE

Like us on Facebook! Latest news on Blog!


Hope for Neighbors gift books will be sold online,
in gift shops, and in book stores everywhere!

©2014 MediaTek Grafx. Kentucky, USA
All rights reserved. No part of this web site may be reproduced.
Email info@hopeforneighbors.com

WENDY NELSON
Wendy Nelson owns MediaTek Grafx, an advertising agency that has worked with businesses, churches, utilities, schools and organizations. She has worked in advertising and marketing for over 25 years.

Wendy is a graphic designer, mosaic artist and web developer, with a heart for God's work. For three years, Wendy produced a monthly prayer letter for missionaries in Africa. As a web developer and writer, Wendy maintains her extensive Christian web site, Faithful Watchmen.com. Wendy works on many research projects and writes for her blog, as well. She engages in debates on her Christian Facebook site, where she has many international friends including pastors, non-Christians and Christians. Wendy prays for the needs of these friends on a regular basis and shares resources with them.

Wendy has worked as a teacher in various capacities. She has worked with youth groups to promote self-employment and business ethics. Wendy taught mosaic art workshops for a local arts council and taught a creative writing class at an assisted living facility.

Wendy lives in south-central Kentucky. She has been married to David for 42 years and they have two married sons and grandchildren.

Email info@hopeforneighbors.com

CLICK HERE TO BUY THE BOOK!