"Wandering through Life" is a 48-page, 8-1/2" x 8-1/2" hardcover Christian gift book filled with inspirational stories and more! Jesus told us to love ourselves, our God and our neighbors. This is the perfect Christian gift to reach out in love, share hope and encourage others. The quality images feature beautiful color photography. Poems, articles and stories motivate us to learn a new way of living - using our gifts and studying God's Word. It includes recipes, helpful hints, a bookmark and verses of KJV scripture. Buy this Christian book for friends!
The Study Guide is now available and is shown below!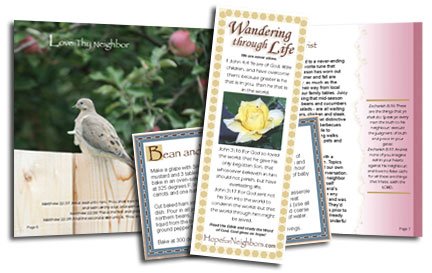 Your Christian online store! Christian book about hope!
NOW AVAILABLE!
Study Guide Companion Book!

Perfect for group study, ladies' Bible study or Sunday school studies as you put into practice the concepts highlighted in the hardcover book! This is a motivational Christian study guide.
The Wandering through Life Study Guide expands on important points including action items
that we can work on to truly love ourselves, our neighbors and our Father in Heaven,
as commanded by Jesus!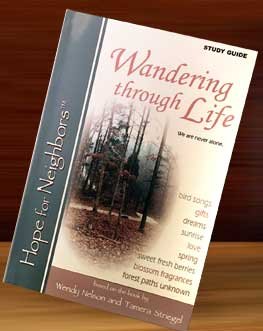 BUY your Wandering through Life Study Guide today!

Hope for Neighbors Christian Gift Books
Buy Christian books online and in Christian book stores
in the USA and internationally


Looking for a Christian Gift Book?
Buy the Perfect Gift Book
of Encouragement and Hope!
"Wandering through Life"
Stories, Poems, Recipes, Articles, Bookmark, Praise,
Helpful Hints and more!

Matthew 22:37 Jesus said unto him,
Thou shalt love the Lord thy God
with all thy heart, and with all thy soul,
and with all thy mind.
Matthew 22:38 This is the first
and great commandment.
Matthew 22:39 And the second is like unto it, Thou shalt love thy neighbour as thyself.
WHERE TO BUY - CHRISTIAN BOOK!
Christian Shopping Online!
Read the Word of God in the Bible!

Encourage family, friends,
co-workers and neighbors!


Learn to feel joy and hope!
Christian Business Advertising
Real Estate Link Exchange Directory
Free link exchange and link building service for real estate themed websites.

Free directory submission

Reformed Forums
Christforums is a forum community for the gathering of christian believers in discussion,
dialogue, and debates, as well as fellowship.
Wendy Nelson, Kentucky and Tamera Striegel, North Dakota

Buy the book for Christian friend!


©2014 MediaTek Grafx. Kentucky, USA, Christian book publisher
All rights reserved. No part of this web site may be reproduced.
Site Map
Email info@hopeforneighbors.com
Christian Online Shopping:
Buy this Christian book for friends and family! It is the perfect gift!